Manufacturing socks in France
Our adult and kid cotton socks are made in France by a family company specialized in socks for a few generations. But do you know how socks are manufactured? Come with us in the factory making our socks to find out about the whole process!
What are cotton socks made of ?
Our cotton socks are mainly made of Oeko-tex© certified Italian cotton (Cotton: 72% / Polyamide: 27% / Elastane: 1%). The Oeko-tex© label is an international label certifying our products are not harmful to your health. It makes sure the textiles and colors used do not contain any toxic substances and are harmless for the consumers.
Our baby socks are made of organic Oeko-tex© certified cotton to give the best to the cute feet of the little ones. We chose to use organic cotton because it is grown without pesticides, insecticides or artificial fertilizers, without GMO, and it needs less water to grow than traditional cotton. In this way, its cultivation does not harm the
surrounding ecosystems, does not fertilize the soils and is not toxic for the workers of the production chain.
Why did we choose to manufacture our cotton socks in France ?
France has a historical know-how regarding the making of cotton socks. We like the idea of supporting French production at our level. After running tests with different suppliers, we selected the family company we are working with today because their socks are very high quality and match the Coucou Suzette vision.
We built a true trustful relationship with the team following us since our very beginnings in 2016, and we love to visit them on a regular basis. Together we develop innovative projects and come up with creative techniques the factory never used before. For example, the workers learned how to do special pleats around the ankle
and learned a new way to weave the heel to create a belly or a butt and reproduce Juliette's fun designs in the best way.
However, even if we are very proud to produce our cotton socks in France, the French manufacturing is expensive and makes us lower our margins significantly. The cost of raw materials is also getting higher frequently which increases our production costs too.
"Made in France" is very valued and wanted today but it is important to remind the efforts it takes for small businesses. Nevertheless, we still want to keep a part of our production in France to support local companies and their traditional skills.
How are cotton socks manufactured ?
Before starting the production, we have to define precisely what we want the product to look like. It starts with a hand drawing of Juliette (Coucou Suzette's creator). She scans it to work on it digitally. It is converted to a pixelated version to get as close as possible to the embroideries. That's also when we determine the size and number of patterns as well as the colors of the threads.
Our socks always have several colors: for the background, the patterns, the ends, the heel and the pleat. We have to pick colors that go well together, especially because we can't use more than 5 colors per embroidery row.
Once everything is done, the technical file is sent to our manufacturer. Later, the factory sends us prototypes and a few back-and-forths are sometimes necessary to approve a creation and start the production.
Step 1 - Weaving
The first step is to weave the sock and its patterns from threads. This work is made by a very specific machine set to knit the designs in a circular way (inside a tube). The different threads are set up and the magic happens. A few minutes later, the knitted sock comes out of the machine. It takes 4 to 5 minutes to knit an adult sock (so around 10 minutes for a pair) and 3 minutes for a kid sock.
Step 2 - Ends sewing
The socks (that are now inside out) are placed by an operator in another machine which will sew the ends one by one.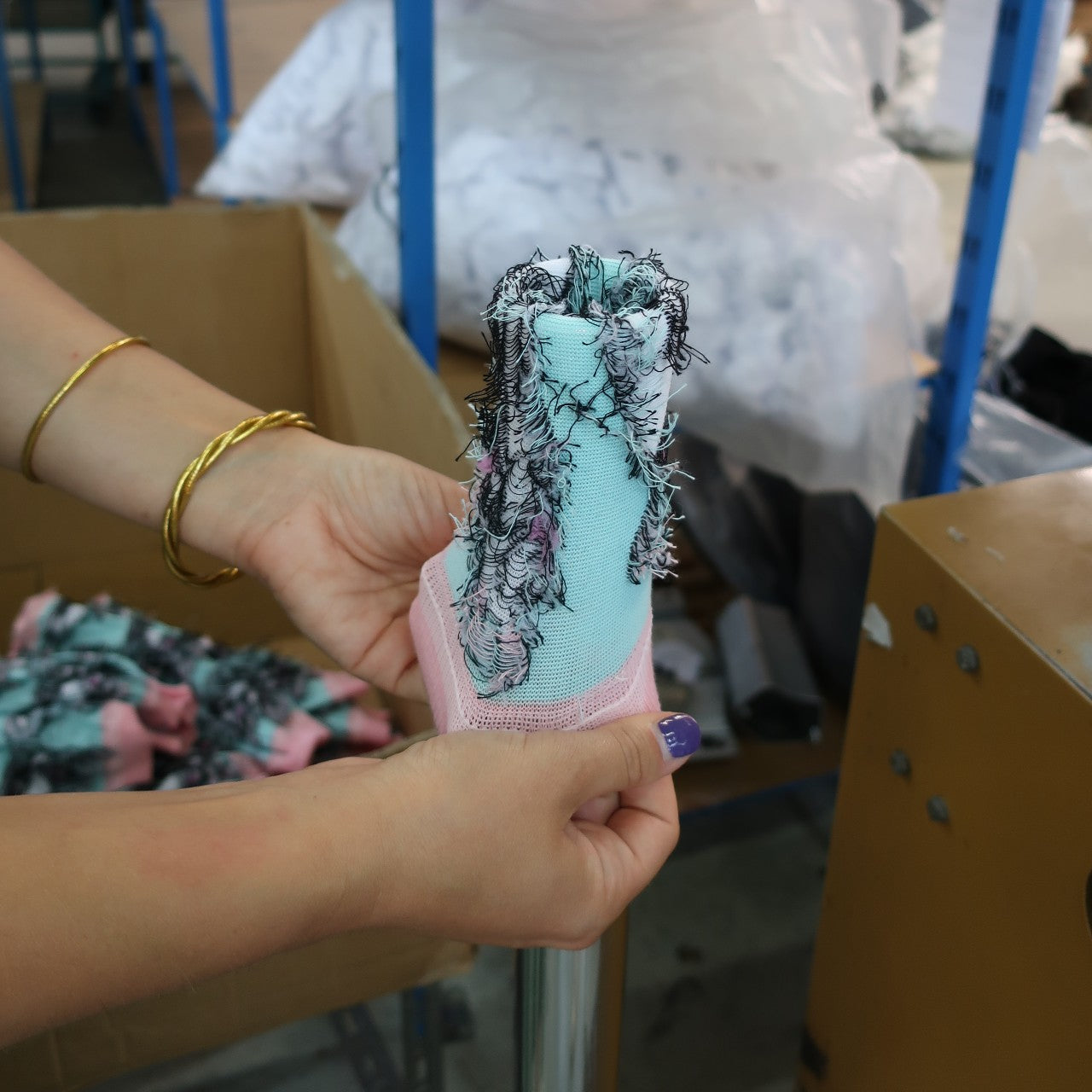 Step 3 - Inside out
At this step, the socks are still inside out. An operator puts them one by one through a machine which will suck them (like a powerful vacuum) so they are on the right side.
Step 4 - Ironing
The socks are then ironed to get their final shape. An operator puts them one by one on a foot-shaped device. The machine will then proceed to iron them.
Step 5 - Final check
The socks are made ! The team makes sure they match the technical file and are flawless.
Step 6 - Packaging
The Coucou Suzette's packaging is sewn on each pair of socks, one after the other. A worker sets the packaging on the socks and a machine secures it with a strong cotton thread.
The socks are now ready to be shipped and worn at your feet!
Now you know everything about the production process of our made in France cotton socks. We are proud to work with this factory since the beginning of Coucou
Suzette and to support the French textile industry at our level, even if
it sometimes means to lower our margins on these products.