All our Coucou Suzette creations are made with passion, from their conception in our Parisian workshop to their making in different factories located around the world and picked with care.
They are created to make people smile and help break the ice with that cutie next to you if you feel like it… But mostly to bring color and joy in your everyday life - by styling your hair with a pretty mussel, by wearing your lucky eye socks or by adding a tanned bootie pin to your outfit.
Our material & factory choices
Each of our choices is conscious and justified. Our suppliers have been selected for their experience and the quality of their work, and they contributed to make Coucou Suzette what it is today. 
We maintain a trustful and faithful relationship with each of them. From the very beginning they believed in our work, even when we were a young starting business, and agreed to produce our collection in small quantities.
If you want to know more about cellulose acetate and how these accessories are manufactured

Learn more

If you want to know more about our choice of a Chinese factory for these products

Learn more

If you want to know more about the manufacturing process of our cotton socks and learn about the French factory

Learn more
Hair accessories, earrings and pocket mirrors
Our hair accessories, earrings and pocket mirrors are made of cellulose acetate, a plant-based material (wood and cotton pulp), certified FSC (Forest Stewardship Council).
This certification guarantees that the wood we use comes from forest managed in a sustainable way. The wood comes from legal logging and its extraction does not cause deforestation and does not harm the biodiversity.
We selected a factory located in the Jinhua area, East China (near Shanghai), because they are experts in this material and offer a large choice of colors and effects which allow us to create our most original designs!
Even if Chinese manufacturing is sometimes contested, we picked this factory for the quality of their work and their expertise.
The factory is certified ISO 9001, Ca65 Compliance et REACH Compliance. In real terms, it means the products and materials used are of good quality.
We are aware that Chinese manufacturing leads to a higher carbon footprint due to transportation. To lower this impact, we group our shipments as much as possible.
Our cotton socks are mainly made of Italian or Turkish cotton certified Oeko-tex© (Cotton: 72% / Polyamide: 27% / Elastane: 1%). 
The Oeko-tex© label is an international label certifying our products don't contain any pesticides.
Our baby socks are made of organic cotton certified Oeko-tex©  to give the best to the cute feet of the little ones. We chose to use organic cotton because it is grown without pesticides, insecticides or artificial fertilizers, without GMO, and it needs less water to grow than traditional cotton. In this way, its cultivation does not harm the surrounding ecosystems, does not fertilize the soils.
Our cotton socks and baby socks are made either in France or in Portugal, depending on the products. These two factories are specialized in socks manufacturing which allows us to make our creations with original and colorful patterns. 
We are proud to support the French and Portuguese textile industries at our level, even if it means lowering our margin on these products.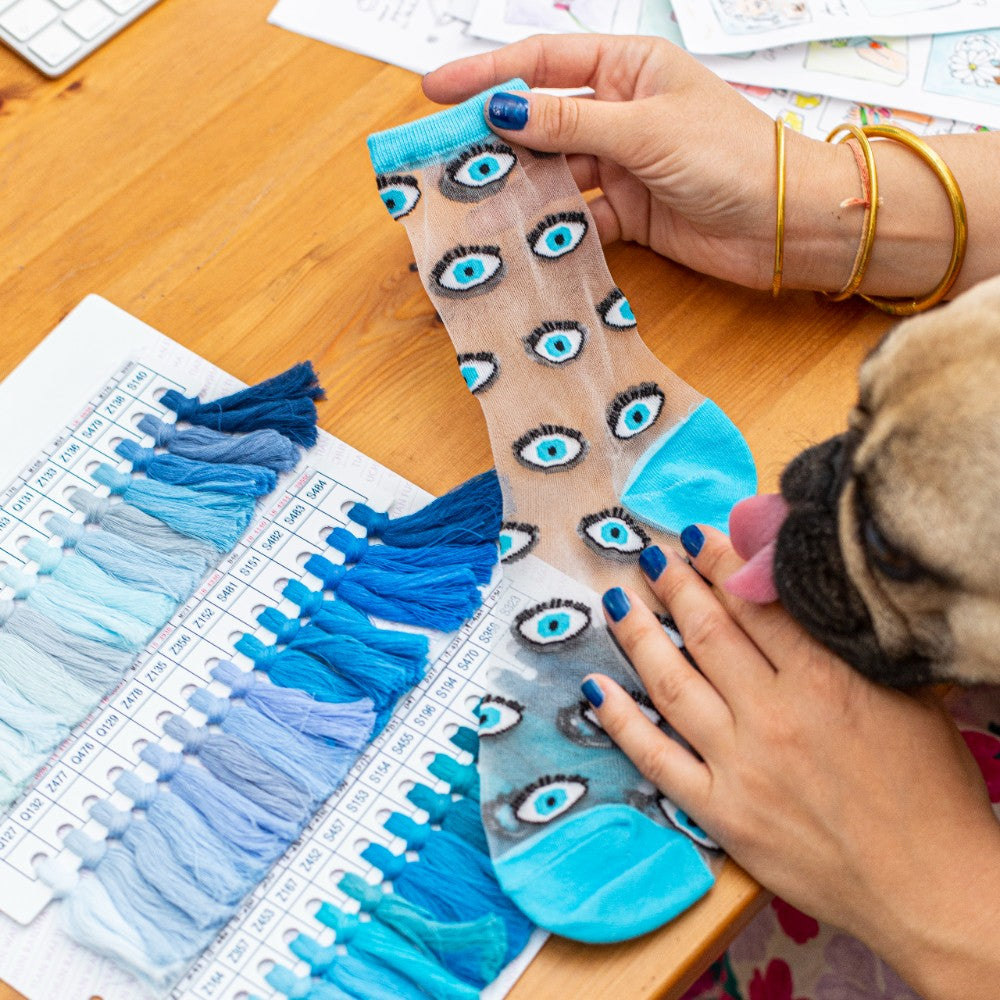 Sheer socks
Our sheer socks are stretchy and very resistant, their composing is similar to tights' one (Polyester: 60% / Cotton: 39% / Elastane: 1%), and they are made in China, Shanghai area.
Pins
Our pins are made of brass. Our manufacturer is located in China, Guangdong area, and in Taiwan. He is member of the SEDEX organization, a collaborative platform offering a framework to develop ethical and sustainable activities (including the health and safety of workers), guaranteed by the SMETA certification.
Jewelry
Our jewelry and boxes are made of 3 microns gold-plated brass, and covered in a clear coat to make the plating last longer. We changed our suppliers and plating methods several times to get to a result we were fully happy with and to offer you the best quality.
Depending on the designs and required skills, they are made either in a Vietnamese factory located in the Ha Nam province, or in a Chinese factory near Hong Kong.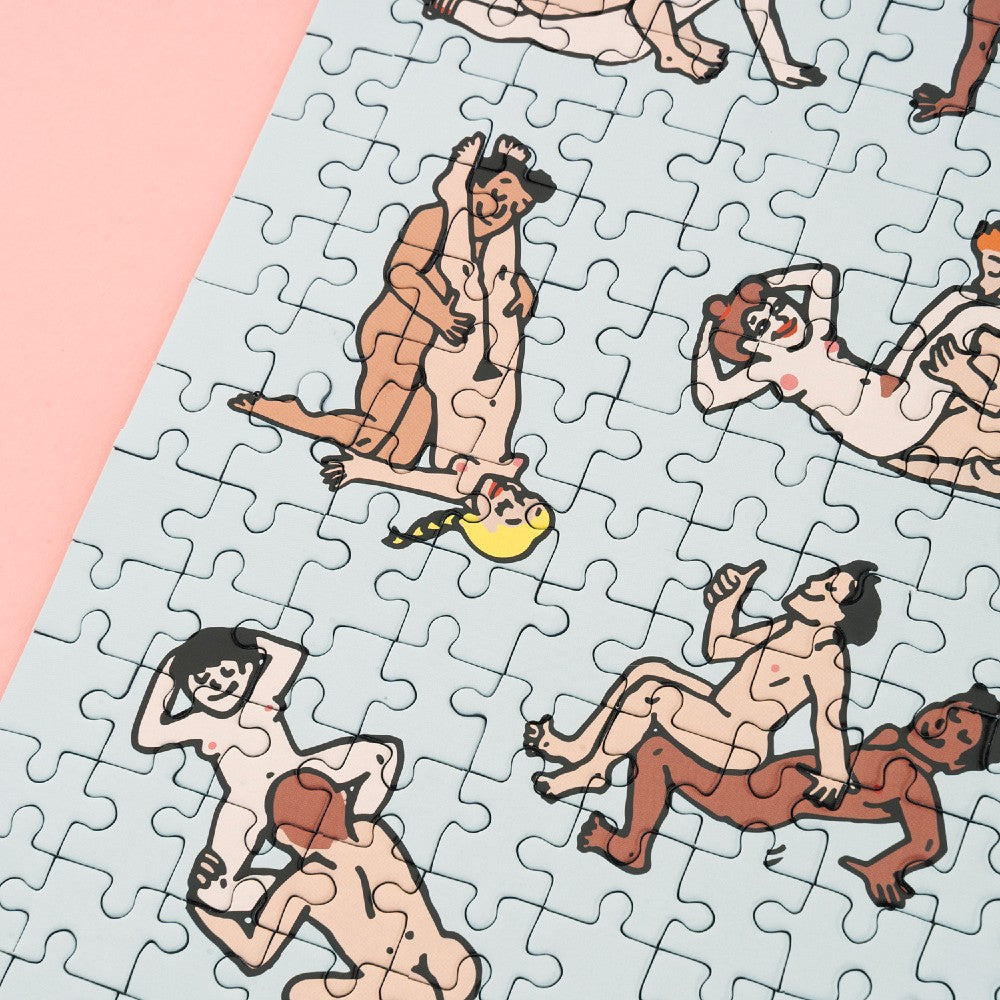 Posters and puzzles
Our posters and puzzles are made in France and of recycled cardboard and plant-based inks. The scraps are also recycled.
Textile
Our Mussel Tee-shirt is made of 100% organic cotton certified GOTS and Oeko-tex©. The GOTS label (Global Organic Textile Standard) guarantees the implementation of high environmental and social criteria during textile production (dignified working conditions and respect for the environment). The Tee-shirts are made in Bangladesh, in a Fair Wear labelized factory. The Fair Wear Foundation certifies that the factory respects the rights of the workers by ensuring a decent wage, the prohibition of child labor and a safe working environment. Mussel patterns are then embroidered in Belgium.
Our Mussel Fanny Pack is made of polyester and spandex in a factory located in Guangzhou, China. We selected this manufacturer because it gives us great creative possibilities. We were able to get as close as possible to the look of a real mussel with its asymmetrical and curved shape, the golden embroideries or the orange satin interior. We also benefited from the expertise and advice of their technical team to launch this new product because it is the very first time that Coucou Suzette creates a fanny pack.
Logistic
Of course we are happy to see Coucou Suzette grow, but certainly not at all costs!
We never throw away anything. Sometimes mistakes are made (in colors, sizes…), and in that case, we still buy the slightly faulty production to sell it at a lower price or to give it to associations until the stock lasts.
We do our best to limit as much as possible the overwrapping and the plastic in general. Your orders are wrapped as gifts in Coucou Suzette recycling paper bags certified PEFC and made in France in factories prioritizing short circuits and zero waste. The PEFC label guarantees the paper we use is coming from sustainable forests.
The packages are sent by our French logistics team.
We work with a factory hiring people with disabilities to pack our pins.
Partnershios with charities
We support causes that are close to us and make donations regularly.
Among others, we collaborate with associations involved in animal welfare (S.P.A., GroinGroin shelter and Rewild), in the fight against breast cancer (OncoDoubs), in the support of midwives (LAMMBA and ANESF associations), in child-cancer research (Une Nuit pour 2500 voix), or in the fight against racism (S.O.S. Racisme).
Creation of a puzzle and a key ring to support the association that takes care of abandoned and mistreated animals

Creation of several pins to help the project of rehabilitation of wild animals rescued from illegal traffic

Creation of a pair of cotton socks with a pig patterns on it, the symbol of the shelter which takes care of farm animals
We do our best to improve more and more each day!
As a small business our current impact might be low, but we commit to a continuous better and more ethical production to bring you everyday joy and make you feel good in your own socks!