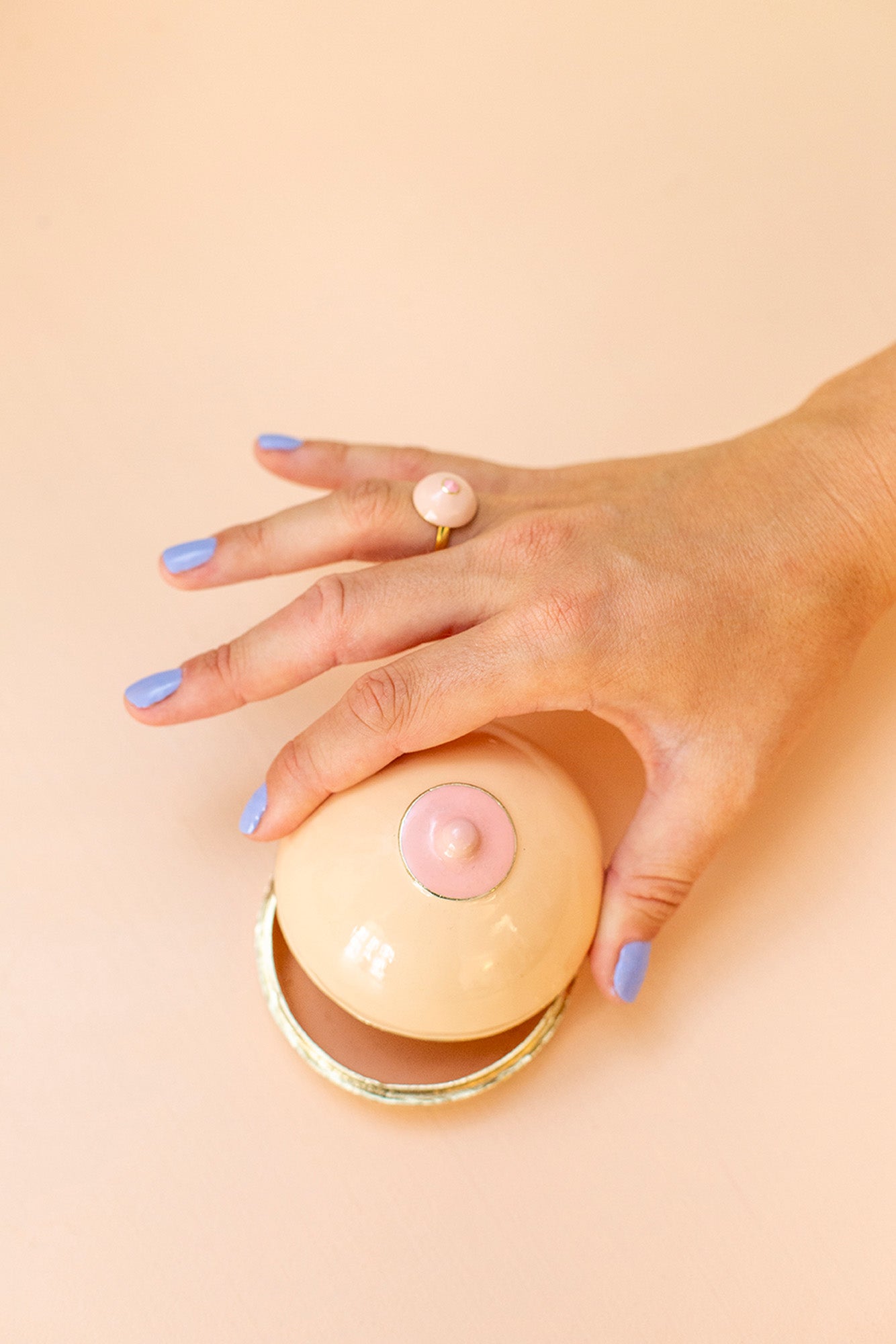 Colorful, fun and kitsch creations !
It all started in 2016, thanks to a boob. At a time when women wanted to free the nipple, Juliette created a ring for one of her friends: more precisely a ceramic boob ring, made with love and for fun.

The piece of art is posted on Instagram and surprise! Everyone wants one.

Amazed by the enthusiasm, Juliette starts selling her creations online. She loves creating so much, she quits her 9 to 5 job to go all the way into this new adventure! That's how Coucou Suzette was born (thank you nipples).
The name of the brand was found very quickly (in two minutes more or less) and it was an instant crush, like every Coucou Suzette creations are. Juliette liked the fun and cheesy sound of it, and Suzette was the name of her beloved kitten.

Years after years, the team became bigger, the brand could launch its own
website, the order picking was delegated to a logistic team (no more order prep in the living room…) and the creations could finally be sold in many shops all around the world.
To respond to the constantly moving market, Juliette decided to turn her drawings into colorful and kitsch accessories: first vintage 90's pins, then socks with sexy patterns, cool hair claws and clips, and creative jewelries.

Original creations with easy prices, made to add some nice and colorful vibes to your everyday life and to make people smile (cheesy but true). Perfect to pimp any outfit in no time, and a good way to break the ice with your neighbor… 

We also made many collabs, always picked with care, such as Naturalia, Sephora, Hema, le Centre Pompidou, Kiehl's, Bocage or the singers Angèle and Julien Doré.

With over 200K followers on Instagram, the brand had known a few milestones: the Boob Ring and its girl power vibe, the Pregnant Socks (with a belly in the heel), the Eye Phonecase used by Angèle in her video clip, the Woof accessories for some cool matchy-matchy looks with your furball, and the Eye Hair Claw, approved by the Korean star Jennie Ruby Jane from the band Black Pink (Hey Beyoncé, we are waiting for you, it's your turn now…). 
Juliette - Creator of the brand, Artistic Director & Community Manager
The founder of Coucou Suzette: Juliette Mallet, Parisian illustrator who grew up in a family of artists. Mom is a painter and a kid stylist, dad is a musician and little bro makes sculptures.
Juliette studied Illustration at the Arts Déco in Paris (ENSAD) and in Japan, a country she fell in love with. She then studied jewelry at the Ecole Boulle in Paris.
Juliette's world is light and fun - she creates all the collections with great spontaneity, monitors the production and handles the communication of the brand (AD & social media). 
She draws what she likes and makes creative accessories out of it. 

Her sources of inspiration are comics, and especially the "Tom-Tom et Nana" collection, which Juliette loves and reads again and again. Juliette is also a huge fan of Jacques Demy and adores Peau d' ne's amazing costumes as well as the Demoiselles de Rochefort's sense of humor. She also collects plastic colorful flowers, glittery things and spends her free time doing ceramic, garden work, singing at her choir or drawing in the grass with her huge Bernese Mountain Dog, Joya.

Her Coucou Suzette favorites: the Tulip Hair Claw, the Strawberry Socks et the embroidered gold mussels Shirt.  
Clotilde - Executive Director

After studying Arts and Culture at university and going to London for a few months, Clotilde worked in cool art galleries and designer shops. 

She was the first one to join the Coucou Suzette journey!

She supports Juliette in each task and makes sure every collection launches properly! With her watchful eye, she helps Juliette in the creative process, deals
with our manufacturers and logisticians, and takes care of collaborations. She also develops the catalogs, newsletters and banners with Hélène, our designer, supervises the whole team like a conductor and sometimes you can see her feet (among other things…) on our pictures.

Her Coucou Suzette favorites: the mini Heart Hair Claw, the Dachshund Socks and the Daisy Earrings.

Lisa - Wholesale Manager

Lisa loves dancing and she lived the American Dream as a travel planner for dancers throughout the US. Now she takes care of our Coucou Suzette resellers all over the world and makes sure they receive all the new creations. She also handles the restocking so everyone can have their Coucou Suzette creations!

Her Coucou Suzette favorites: the Heart Socks, the Daisy Pin and the purple Pansy Hair Claw.

Clara - B2C After-sales & Logistics Assistant

After studying English & art history in France, Ireland and London, Clara came back home and took care of the little ones (who taught her patience…) before joining the Coucou Suzette journey! Between two hot chocolates, Clara manages the after-sales service & logistics, she creates the product sheets, deals with the pictures... A true multi-tasker!

And if you give us a call at the office, she will probably be the one answering with a sweet voice… She answers every question and deals with all the little issues with a smile on her face!

Her Coucou Suzette favorites: the Owl Mini Hair Claw, the Mussels & Fries Socks and the Lemon Pin.

Camille - Digital Marketing Project Manager

Camille is passionate about fashion, marketing and communication: that's all we needed for her to join the team! She is the one behind the marketing strategy of Coucou Suzette: website management and promotion, creation of newsletters, SEO… She connects aesthetics and usability to get the best customer experience possible.

When she's not working on Excel, Camille loves to order tasty food for lunch break. If the bell rings at 1pm, no doubt it is for her - we are waiting for the day when the delivery guy calls her by her first name and fistbumps her.

Her Coucou Suzette favorites: the cocker keyring, the daisy mini hair claw and the glittery strawberry socks

Fanny - Social Media Manager

You love watching our stories on Instagram? Say thanks to Fanny! She's an expert in fashion & digital communication and is the best at creating content. A true energy ball always looking for new inspirations!

You can witness her creativity through her looks: everyday feels like a fashion show with her and we're here for it! She is part of the 50% of the team who worship Jacques Demy, one of the most famous film directors, and she dreams about a world where we would only eat tomatoes & mozzarella.

Her Coucou Suzette favorites: the big Daisy hair claw, the Starfish hair claw and the Sakura earrings.

Lucile - Swiss Knife

Lucile was first a copywriter & translator as a freelancer for Coucou Suzette before she joined the team full time to help the busy little bees. Besides the product sheets and newsletters, she coordinates life at the office and makes sure all her co-workers are happy campers.

You are selling counterfeits of our creations? Beware, behind her big smile hides the relentless person doing the reports and sending you the unhappy messages!

Her Coucou Suzette favorites: the Lemon Sheer Socks, the Sakura Hair Claw and the Grape Pin. 

Méryl - Photograph

Méryl once DMed us on Instagram to tell us our worlds would go great together… Bingo! With her passion for kitsch, colors and absurd details (just like Coucou Suzette), Méryl takes care of most of our pictures ever since. We work on them together, from the sketches to the staging and the photoshoot.

Her Coucou Suzette favorites: Lemon Mini Hair Claw, Eye Sheer Socks, Boob Box.

Florence & her Logistics Team - Orders Preparation & Sending

They are the little elves in the shade taking care of all your orders!

We have worked with them for a few years now and thanks to them, Coucou Suzette was able to get bigger, handle more orders and work with resellers from all around the world.

They stock our creations, pack and ship every single one of your orders with great care, and all of it from their premises in France.

Their Coucou Suzette favorites: the Peach Mirror, the Sakura Hair Clip and the Together Pin.

Pippa - Furry intern

It's on the soundtrack of her snoring that we make all our creative choices. Pippa is even on some of our photoshoots, she is our cute and funny mini mascot!

Her Coucou Suzette favorites: the Bulldog Socks (baby size), the matching Hair Clip and the Dachshund Pencil Case which looks just like her best friend.
Corporate social responsibility at Coucou Suzette